Dirty Laundry
Presented January 2018 in the Exponential Festival
and then released as a podcast Spring 2019
DIRTY LAUNDRY written by harold lehmann
a sci-fi feminist murder mystery about a future terrorist girl who sets out to murder all standup comedy.
Performed with projections, sounds and sensations.
Featuring:
Sasha Agranov
Justin Anselmi
Coco Conroy
E. James Ford
Harold Lehmann
Tina West
original art and projections by Ben Cole
original sound by
Richard Lehmann & David Whitely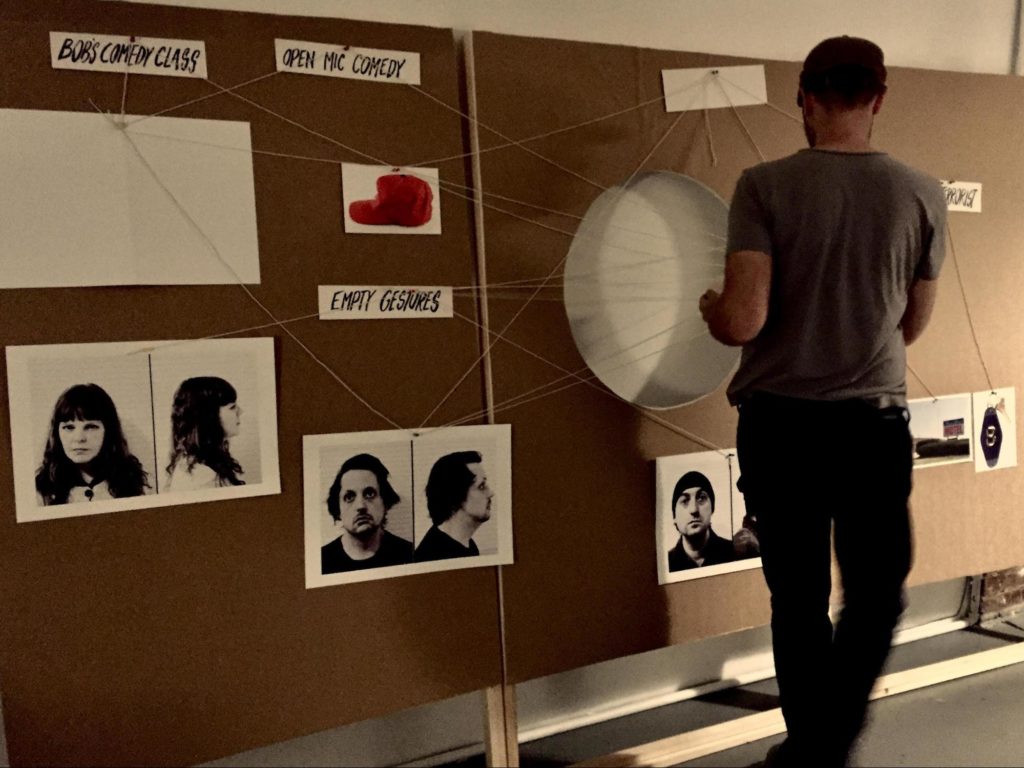 Website: http://emptygestures.org/
About
A future terrorist declares war on comedy. The chief inspector is in pursuit despite a secret past. A detective story for an uncertain age.
Text by: Harold Lehmann
Sound by: David Whitely
Production by: Brandt Gassman
Art by: Ben Cole
Featuring: Coco Conroy, Harold Lehmann, & Tina West
Artist Bios
Harold Lehmann
Harold Lehmann is a writer, director and social worker based in New York.While working in performance and writing, Harold immersed in himself in community work, collaborating to build programs for youth and families, and more recently helping to develop mental health team to support communities in Brooklyn, New York. Harold is exploring his own language of performance and text to investigate culture, connection and responsibility. Most recently his "living novel" SnakeHeist won first prize at the Text and Visual Language Exhibit 2020 at the St. Louis Artist's Guild.
David Whitely
David Whitely is a creative technologist, musician, and software architect who explores merging sound, technology, and lighting into immersive combinations that range from commercially viable large scale installations to haphazard basement explosions. David was born in Seattle, WA, and attended Northwestern University in Evanston, IL where he studied Jazz Upright Bass and Music Technology. In Chicago, he worked for the Museum of Contemporary Art as a staff software expert as well as played in the sludge rock band Mung, using his upright bass, laptop, and large amplifier. He performed at SXSW for multiple years in a row as a video artist for the band Mittens on Strings. In New York, David co-led the pop-punk quartet No Fun as well as experimented with synthesizers and tent-pole led light installations with the band Dead Slashes Night. He has delivered projects ranging from WebGL based digital installations to massive publication websites that scale. David lives in Portland, Oregon.
Brandt Gassman
Brandt Gassman is a producer. recording engineer and musician whose 20 years' experience spans popular music, documentary film/television production and journalism.
Brandt shepherded numerous documentary projects through post production to their premieres, including "The Ties That Bind" (TriBeCa 2015), "Time: The Kalief Browder Story" (Sundance 2017) and "Industrial: Accident: The Story of Wax Trax! Records."
He lives and works in Brooklyn, NY.